Zwei Kapitäne, ein Kurs.
(Auf Englisch fragt Max: "Co-Captain? May I line up on the left side of the hunting formation?")
Ein Sack Flöhe, zwei Hüter.
(Im Original mault Fiona: "Sure. Make ME the disciplinarian!")

Ein paar gute Tipps vom Trainer.
(Auf Englisch meint Coach Pardus: "Except you can't yell and scream at them.")

Die Teamrollen werden neu verteilt.
(Im Original keift die Meute: "WE GET IT!")

Wie man sich den Markt aufteilt.
(Auf Englisch tönt es aus dem TV: "...and in business news, Herd Thinners, Inc. announced a stock split.")

Die Urangst im Paket.
(Im Original schlägt Kell vor: "Just let ME open boxes packed with styrofoam.")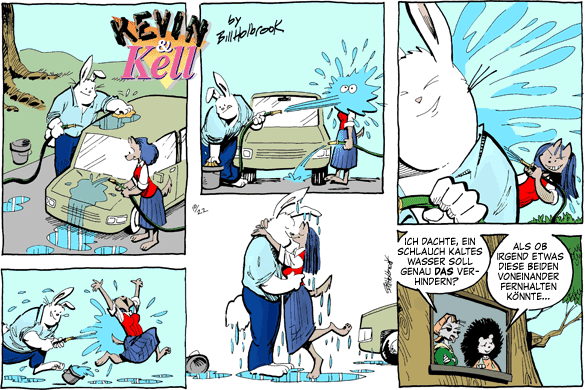 Dieses Vorspiel hat ein Nachspiel.
(Auf Englisch meint Lindesfarne: "Like anything would discourage those two...")
Kevin & Kell sind © 1995 - 2010 Bill Holbrook. Alle Rechte vorbehalten.
Es ergibt keinen Sinn, diese Seiten mit Lynx oder ohne Grafiken zu besuchen.