Spamming für Anfänger.
(Auf Englisch will Ralph wissen: "What kind of images?")
Die Ursprünge des Spams.
(Im Original grummelt Ralph: "Damn global network...")

Ein paar Worte zur Datensicherheit.
(Auf Englisch schließt die Mail mit: "Granted, in the animal kingdom there's a long tradition of taking over someone's habitat...")

Eine interne Schulung der Herdenkontrolle GmbH.
(Im Original endet der Vortrag mit: "...and that concludes this powerpoint on the importance of night vision.")
Kell lernt Frank kennen.
(Auf Englisch klagt Frank: "But did you have to let it GO?")

Edgar bedient Löwina.
(Im Original freut sich Leona: "Thanks for bringing food to ME, Edgar!")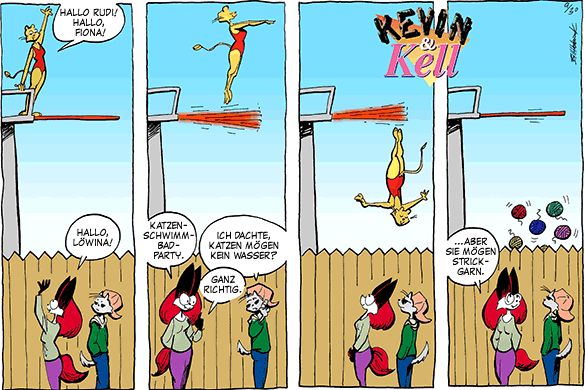 Pool-Party.
(Auf Englisch erklärt Fiona: "...they like yarn.")
Kevin & Kell sind © 1995 - 2010 Bill Holbrook. Alle Rechte vorbehalten.
Es ergibt keinen Sinn, diese Seiten mit Lynx oder ohne Grafiken zu besuchen.