Die Ergebnisse der Schulratswahl werden bekannt gegeben.
(Im Original meint das Krokodil: "They have different priorities than us campaign managers.")

Kevin erfährt, wer gewonnen hat.
(Auf Englisch meint Kevin: "Yes ma'am... I'll see about getting the school bus drivers to park closer to the curb...")

Franz... ein neues Mitglied in der erweiterten Familie von Kevin & Kell.
(Im Original lästert das Krokodil: "Typical politicians. ...can't give a definitive answer.")

Kevin verrät Frauke sein letztes Geheimnis.
(Auf Englisch meint Fran entsetzt: "YOU were a pro wrestler?")
Es stellt sich die Frage der Artenzugehörigkeit.
(Im Original entschuldigt sich Lindesfarne mit: "Um... 'family project.'")

Lindisfarne hat Neuigkeiten vom Gentest.
(Auf Englisch schreibt Lindesfarne: "...but beyond being a mammal, the classification is a total mystery. The genetic code is hopelessly jumbled!")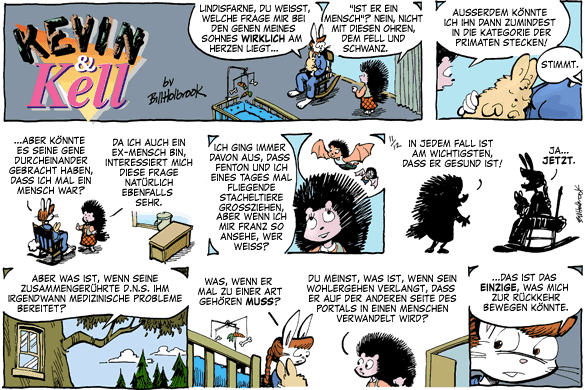 Daniela und Lindisfarne sprechen über Franz.
(Im Original fragt Lindesfarne: "You mean, what if his well-being demands that he be transformed into a human on the other side of the portal?")
Kevin & Kell sind © 1995 - 2010 Bill Holbrook. Alle Rechte vorbehalten.
Es ergibt keinen Sinn, diese Seiten mit Lynx oder ohne Grafiken zu besuchen.